Las Vegas: The Perfect Destination for your Enjoyment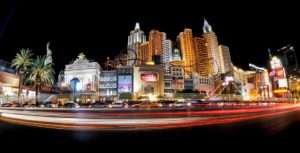 There is no other place in the world like the magnificent Las Vegas! This is the place where a wide variety of recreational activities can be fulfilled. This unique city of United States is located in the State of Nevada and is the county seat of Clark County. Ever since its foundation in 1905, the population has rapidly grown. As a result, the city soon became one of the most famous destinations in tourist industry across the globe. It boasts 300 days of sunshine a year, which is impressive on its own!
Las Vegas is undoubtedly the absolute paradise for travelers seeking fun and enjoyment in a glamorous environment. Las Vegas economy is very dependent on its luxurious hotels and casinos in the down town area, which endorses activities such as gambling, fine dining and entertainment. Shopping and nightlife are also major tourist attractions.
The glamorous casinos definitely attract most attention in Las Vegas. People visit the casinos from across the US and set out on thrilling adventures. "What happens in Vegas, stays in Vegas", after all! As soon as you set foot on this marvelous city of light and glamor, you will be blown away! You can play roulette or blackjack, attend one of the marvelous theatrical performances and musicals or even get married at the chapels! If you have watched "Hangover" with the hilarious Zach Galifianakis, then you already know all about Las Vegas!
Apart from the aforementioned attractions, there are many other sites worth visiting when you are traveling to Nevada and Las Vegas. Among them, you can find several museums. The most famous museums include the Neon Museum, the Mob Museum, the Las Vegas Natural History Museum and the Nevada State Museum and the Old Las Vegas Mormon State Historic Park.
The geographic location of the city, which is to say in the middle of the desert, makes Las Vegas even more impressive as a destination in the mind of visitors. The beauty of the city is highlighted especially during the night hours. This is when the fancy colors and the illuminated signs from all the surrounding buildings captivate the imagination of the visitor, creating a unique atmosphere of happiness and abundance.
Pursue your shiny dreams in Las Vegas and head there, with the best company and with the mood to have fun. Real fun, the fun that you always look back at with nostalgia!